'Đức Lương's archive commemorates the golden era of Vietnamese postage stamps'
-


Part celebration, part time capsule, the archival project Bưu Hoa honours the country's visual history.
For illustrator Đức Lương, also known as Luongdoo, building an archive of Vietnamese stamps and letters was not simply a whimsical idea. He felt compelled to document the rich visual history of Vietnam through these small prints. "Before the time of the Internet, a place on a stamp would have piqued the curiosity of the person holding it," he says. Today, Đức's archival project Bưu Hoa Việt Nam is replete with vibrant little rectangular stamps tenderly curated to rekindle that curiosity.
Buu Hoa Vietnam: First Anniv. of August Revolution (19/8/1945) and National Day of the Democratic Republic of Vietnam (02/9/1945), designed by Sang Nguyen, 1946 (Copyright © Buu Hoa Vietnam, 2022)
Buu Hoa Vietnam: Handicraft items, designed by Duc Thanh Le, 1968 (Copyright © Buu Hoa Vietnam, 2020)
Buu Hoa Vietnam: Vietnamese women's costumes — Velvet traditional costume, designed by Nhi Luong Vo, 1999 (Copyright © Buu Hoa Vietnam, 2020)

He describes how an encounter with his uncle in the village of Lăng Cô sparked his interest in collecting. His uncle, a fellow collector, had been stockpiling "CD covers since wartime, Vietnamese letter-making guidebooks, handcrafted wedding invitations, labels, postcards" and a treasure trove of other cultural memorabilia. Đức points out that "those stamps have come a long way since my uncle's youth, dating back to the days when he usually went to the post office to ask for used postal envelopes," a "simple pleasure when living in the countryside during the days of war-zone evacuation".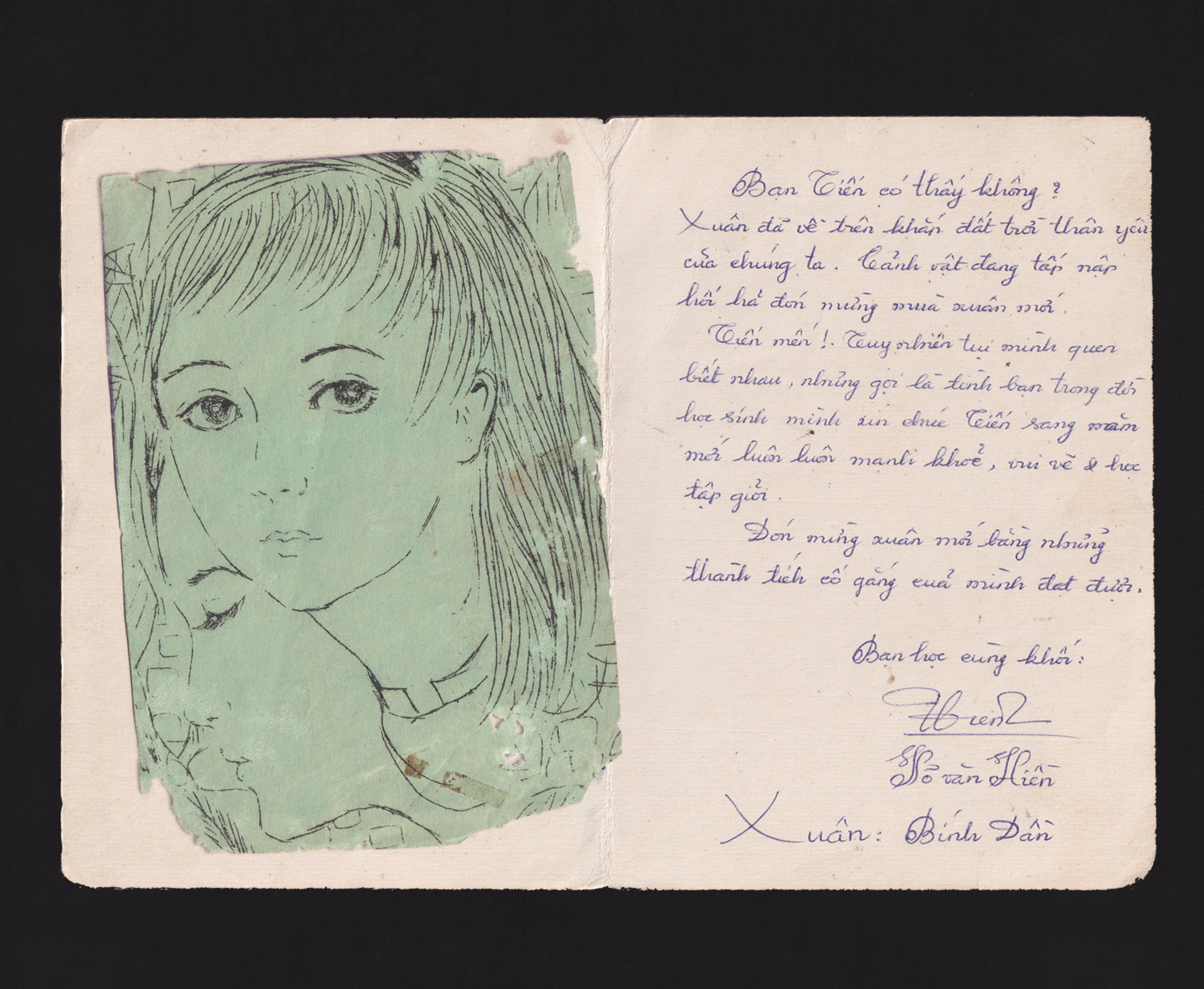 Buu Hoa Vietnam: A handmade postcard in the Lunar New Year of the Tiger 1986 (Copyright © Buu Hoa Vietnam, 2022)




It was this personal collection that formed the foundation of what would become Bưu Hoa. The name is a Sino-Vietnamese word that was widely used to refer to postage stamps prior to 1975 – one year before Vietnam adopted a unified postal service.
Đức developed an interest in the contextual function of stamps: how historically they were used to "convey or propagate information to people during the Vietnam War time", but how now they're often used as convenient mediums for artists to display their work, often without "careful research of their technical principles." It's true! The designs, inscriptions, symbols and palettes reveal valuable information about the cultural sensibilities of the period they come from. It's for this reason that Đức sees himself as "a person who travels back in time and then brings those things to the present".
Buu Hoa Vietnam: Timbre-Taxe — Dragon, 1955 (Copyright © Buu Hoa Vietnam, 2021)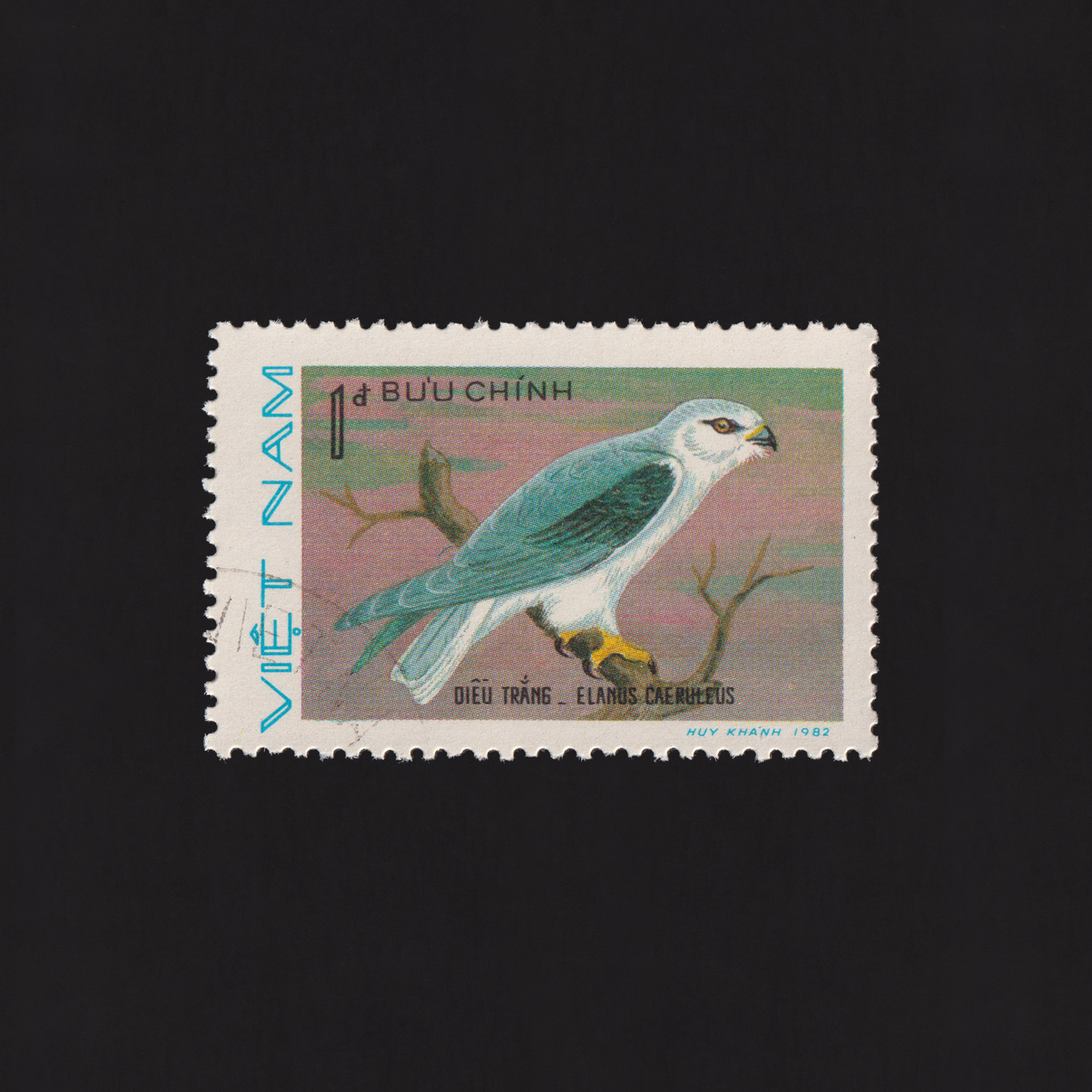 Buu Hoa Vietnam: Birds of Prey — Black shouldered kite (Elanus caeruleus), designed by Khanh Huy Tran, 1982 (Copyright © Buu Hoa Vietnam, 2022)
Buu Hoa Vietnam: Mountain and Water Genies (Vietnamese legend), designed by Toan Le, 1987 (Copyright © Buu Hoa Vietnam, 2022)



The collection is largely made up of inventories stored by the Vietnam Stamp Company, which were eventually sold to antique dealers. In addition to these and the stamps that his uncle gifted him, pages are lined with stamps plucked from speciality books. Đức admits that the process is difficult. He says the scarcity of collectibles is a consequence of Vietnamese golden era stamp books being burned or discarded when Vietnam declared peace in 1975.

Luckily, a handful were transported to the North or held on to by traders, a few of which Đức managed to get his hands on. Because some were damaged, he has taken on the task of patching them up "in my own style, with the hope of breathing new life into them".




Buu Hoa Vietnam: Activities in new economic zones — Evening classes in mountainous areas, designed by Luong Tran, 1962 (Copyright © Buu Hoa Vietnam, 2019)

Đức picks out one stamp he admires the most: a thematic stamp depicting women working by candlelight, designed by artist Tran Luong and published in 1962 by Tien Bo printing house. Noticing that the artist had omitted their name, Đức was struck by a "provocative feeling that the artist wanted to hide it". He spotted that whoever was responsible for this peculiarity "skilfully wrote the number of years the stamp was issued on the blackboard, just like the way a teacher would teach multiplication tables to a class". It was the joy of finding that the artist had cleverly hidden their name inside a symbol placed vertically on the right side of the stamp that invigorated Đức to share this collection.

Đức's work allows these designs to live on longer than their intended use. He hopes that the project acts as a cultural resource and encourages young designers to explore Vietnam's rich history of design and hand-drawing.


Buu Hoa Vietnam: National emblems of the Socialist Republic of Vietnam — National Anthem, designed by Hiep Nguyen, 1980 (Copyright © Buu Hoa Vietnam, 2020)

It's Nice That - Writer Roz Jones
Bưu Hoa Việt Nam


---